The Book of Visitations of Glory
Issue Six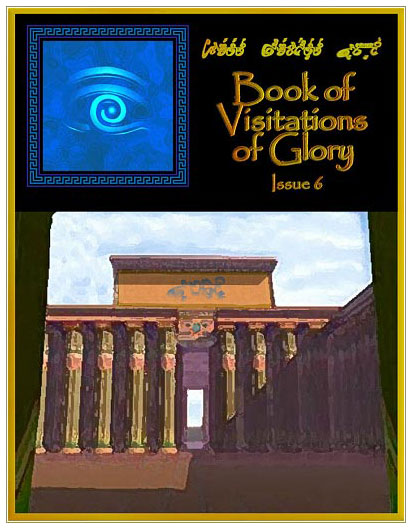 This Issue's Contributions
Joseph Pizzirurso
A magazine dedicated to the world of The Empire of the Petal Throne by M.A.R. Barker
More than a few cycles of the moons have past since 'The Guild of Ethereal Ink' last delivered a compendium such as this to those who seek knowledge. Still, I have other items that must wait for the next opportunity. Even this issue would never be finished if I included all of the embellishments that could be added here and there. I greatly appreciate all of the contributions and hopefully, the glimpses into their private Tékumel will inspire a spark for the coming revival of the greatest world that I have ever had the privilege in contributing a minor part. Enjoy.
Contributions to the Perpetration Of Sagacity
Krista Donnelly
Robert Dushay
Brad Johnson
Belinda Kelly
Joseph Pizzirusso
Mike Watts
Download a PDF version of this issue (1.9Mb).
This web version for tekumel.com prepared by Peter Gifford.
All Tékumel items, and the Irzákh font ©2002 by M.A.R. Barker. All Rights Reserved. And as is the case in all issues of The Book of Visitations of Glory all such writings from the contributors' pens are unofficial, non-canonical, and have no relationship to or bearing on the real world of Tékumel.