The Eye of All-Seeing Wonder
Issue Five | Summer 1995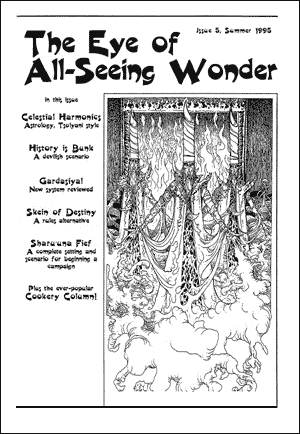 Contents
Editorial by Steve Foster.
A scenario by Jack Bramah.
Letters to the Eye.
Role-playing rules.
A review of the TOME boxed set.
Definitive answers on Tékumel matters.
Astrology without stars.
Aspects and cult worship. [Re-edited for the Eye online by David Bailey]
Campaign setting.
Another approach to character generation.
Introductory scenario.
Cookery column.
The Eye of All-Seeing Wonder was edited by Steve Foster with help from Dave Morris and Roz Morris. Artwork is by Martin Helsdon, Russ Nicholson, Dave Morris and Steve Foster. All contributions remain the copyright of the individual authors and artists.
Care has been taken to maintain authenticity, but this is not an official Tékumel publication. Dang!
Tékumel products are available from the following sources in the UK:
Leisure Games, 91 Ballards Lane, Finchley, London N3 1XY and
Esdevium Games, 6 Wellington St, Aldershot, Hants GU11 1DZ
Oberon Mole's Postal Emporium, 69 Atherley Road, Southampton S015 5DT
and in the USA from:
Theatre of the Mind Enterprises Inc
, Suite 205, The Byrne Building, Lincoln & Morgan Streets, Phoenixville, PA 19460
Miniature figurines can be ordered from:
PHD Games Inc, Box 177, Anderson IN 46015, USA and
Robert Smith, 2904-A Pearl Street, Austin, TX 78705, USA (resmith@ccwf.cc.utexas.edu)
The web edition of The Eye of All-Seeing Wonder was created by Dermot Bolton with permission and source files provided by Steve Foster. Special thanks go to Giles Sutcliffe for assistance with setting up templates. Additional layout by Peter Gifford. All contributions remain the copyright of the individual authors, where an author is not specifically mentioned copyright belongs to Steve Foster.