The Eye of All-Seeing Wonder
Issue Four | Spring 1995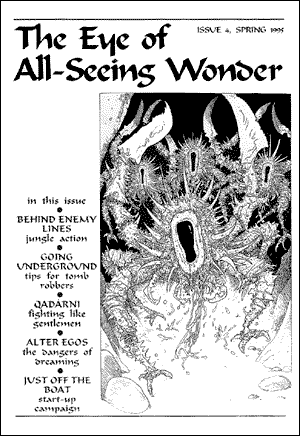 Contents
Editorial from Dave Morris.
Patrick Brady explains the facts of life to new players.
Bob Dushay enters occupied territory. A scenario for pre-generated characters, first run at the 1994 RuneQuest Con.
A Tsolyáni commander gives his view of how 'Little Wars' ought to be conducted, courtesy of Jack Bramah.
The colour of moonlight, asking gods for favours, the rights of 'native Tékumelani', secret police, rats, religion and chocolate. All this and body piercing too.
Converting new characters from Adventures on Tékumel to TIRIKELU.
Mark Widgoer-Daniels conducts an interview with Professor Barker.
As a follow-up to last Issue's feature on the Palace of the Realm, Mark Wigoder-Daniels casts his eye over some cases vexing the courts this season.
Roz Morris knows the way to a man's heart with this classic recipie for Tournedos Rossini.
Climb aboard and seek your fortune along with the plucky youths of Falesa Isle. No saving the world for these guys—staying alive is hard enough.
Midnight robbery in the tombs and buried shrines of the underworld. Mark Wigoder-Daniels is your guide.
Here are some tips on trying to get authentic Tsolyáni mind-set into your roleplaying.
Just when you thought it was safe to go back into the gaming room, an entire RPG on one page.
A spot of Soul searching, as Patrick Brady discusses the subconscious and the unconscious.
The youth of today... our Japan correspondent Paul Mason puts 'em in their place. O tempura! O mores!
Something's rotten in the state of Mu'ugalavyá. A chance for characters to do a spot of detective work.
plus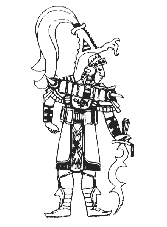 This Issue of The Eye of All-Seeing Wonder was edited by Dave Morris with help from Ian Marsh and Steve Foster. Art by Martin Helsdon, Russ Nicholson and Dave Morris. All contributions remain the copyright of the individual authors and artists.
Care has been taken to maintain authenticity, but this is not an official Tékumel publication. Oh no.
Tékumel products are available from the following sources in the UK:
Leisure Games, 91 Ballards Lane, Finchley, London N3 1XY and
Esdevium Games, 6 Wellington St, Aldershot, Hants GU11 1DZ
and in the USA from:
Theatre of the Mind Enterprises Inc
, Suite 205, The Byrne Building, Lincoln & Morgan Streets, Phoenixville, PA 19460
Miniature figurines can be ordered from:
PHD Games Inc, Box 177, Anderson IN 46015, USA and
Robert Smith, 2904-A Pearl Street, Austin, TX 78705, USA (resmith@ccwf.cc.utexas.edu)
The web edition of The Eye of All-Seeing Wonder was created by Dermot Bolton with permission and source files provided by Dave Morris. Additional layout by Peter Gifford. All contributions remain the copyright of the individual authors, where an author is not specifically mentioned copyright belongs to Dave Morris.