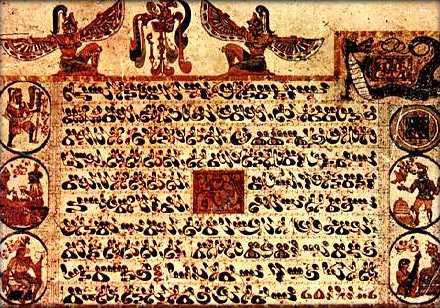 Brukhatúndàlisa qùrunmizhánsadàlimrayal
hitupànkólumel màsunsomhági fazhá guál másun tlafátlan-
dhàlidhàlisa hiKérunan ngá. Mál úl páchukoi kólum másun
brukuténgkhandhàlidàli pazhán, lél mál úl guál guál máisurmra
khatúndàlisakh mríngun shípali. mál úl guál kólum másun
bruháya lél brumazík mikqámi kenpógurd
màsunhiwísu. lúm súrim nizál másun brumünidàlisa
háyan bruBéy Síy dhálidhàlin. Muél, mál úl guál timán
guál lúmmra harékh brukòlumébabar. 22 Trantór,
2332, brukólumsa hikólumeldàli galatsán.
Notes: The old form of the name of the city of Béy Sü is sometimes used in Imperial documents: béy síy This dates from Classical Tsolyáni usage. Within the square with the Sró at the top right is written the word girái "indeed!" In the picture squares at the left and right of the text are written 'pastimes' that a Governor may find enjoyable: down the left side are qadárkoi "battle", pathái "physical pleasure", and téru "reciting poetry". On the right side are: kólumel "Emperor" (in the round seal, signifying Imperial service), küna "hunting with birds, falconry", and hisé "playing music".